According to the Fourth IMO GHG Study 2020 in 2018 superyachts emitted approx. 4.9 Million tons of C02e – note: this does not take account of shore power and use of Automotive Gas Oil (AGO) so could be much higher.
Based on the past trend and forecast growth, without significant changes in efficiency, energy consumption and/or shift to alternative fuels, this is set to double by 2030.
While there are some energy efficiency improvements that may be making a difference, what is preventing the industry moving to low or zero carbon fuels?
As well as increased cost, compatibility with existing systems, technical readiness and the risk associated with some alternative solutions, has held back the transition. In addition, the choice and availability of suitable energy carriers (fuels) their production and availability has also been a consideration.
Based on studies from the shipping industry and the likes of DNV and Maersk Mc-Kinney Moller Center for Zero Carbon Shipping there appears to be two leading contenders for superyachts: –
Renewable diesel such as HVO or equivalent
Methanol
You may wonder why I do not include Hydrogen and I will touch on that later in the article.
Putting aside technical readiness, their widespread also use relies on regulation, safety, feedstock availability, production, scale, storage, distribution, and price. These are the very same factors that are shaping the choice of fuel in the shipping sector, and let's not forget, we will be reliant on their choice for our future – certainly for yachts that are not restricted to coastal areas.
Clydebank Declaration
Recognising shipping's place in climate change and the need to accelerate decarbonisation, during COP26 in November 2021, the Clydebank Declaration was launched. This was initially signed by Australia, Belgium, Canada, Chile, Costa Rica, Denmark, Fiji, Finland, France, Germany, Ireland, Japan, the Republic of the Marshall Islands, the Netherlands, New Zealand, Norway, Sweden, the UK and the US. There are now 24 signatories that can be found here: –
The signatories have committed to establishing six "green corridors" by 2025. These are entirely decarbonised routes between two or more ports to help accelerate the development of zero-emissions fuels, regulations, production and the enabling infrastructure. This would then provide the foundation for scaling further routes and investment in decarbonisation.
The US Department of State have an excellent fact sheet on their Green Shipping Corridors Framework and its goals.
There is plenty to support this kind of development, but the geographic distribution and method of bunkering for shipping is unlikely to suit most superyacht operations. With that in mind, is their mileage in developing our own version?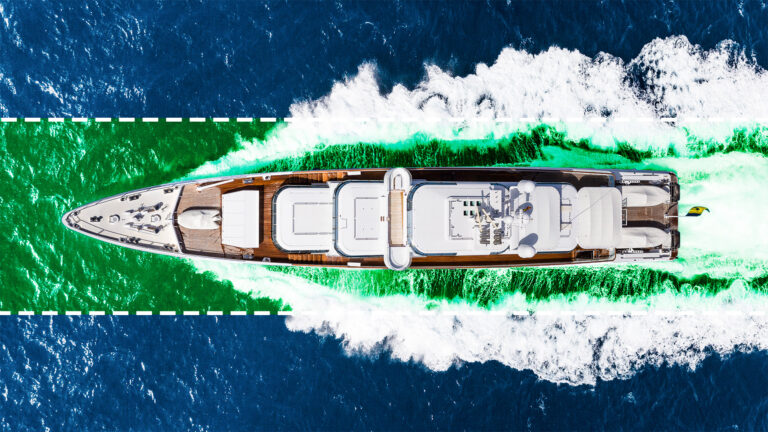 Green Superyacht Corridors
As with shipping, fuel scarcity is a problem with alternative solutions. The proverbial "chicken and egg" what comes first, the yacht, or the fuel?
This would not be a case of developing fuels specifically for the superyacht industry – we don't have the scale for that – but building upon the momentum of the shipping industry and ensuring that alternative fuels are available in the most common cruising grounds.
The Mediterranean and Caribbean and their migratory routes perhaps offers the best opportunity for such a green corridor to be established. Ensuring that fuels such as HVO for today's yachts, and Methanol for the next generation of yachts, are readily available?
This would build confidence, remove fuel anxiety, and help accelerate the decarbonisation of superyachts. The build-out and promotion of green corridors would also provide proof that superyacht owners and the industry was serious about decarbonisation.
Why no Hydrogen?
Whilst Hydrogen has some benefits, it is not a leading contender for international shipping. This is down to the volumetric energy density of the fuel, storage, and transportation.
In short, this means you would require larger yachts to carry the fuel, or reduced range requiring wider availability of the fuel. And, due to storage and transport issues, the production would need to be close to the point of bunkering.
For example, to bunker Hydrogen in St Martin you would need to create the whole production and distribution value chain; wind and/or solar electricity, electrolysers, process and liquefaction plants, storage and distribution.
Liquid Fuels
For the foreseeable future liquid fuels such as HVO and Methanol have clear advantages for over Hydrogen for ocean going superyachts.
HVO, considered a drop-in fossil diesel replacement, can already be used in many marine diesel engines – check with your engine maker. It can be mixed with fossil diesel, and requires no changes to fuel storage, transportation, or bunkering. It is by far the easiest and most immediate method of reducing carbon emissions, today!
Methanol requires less volume than Ammonia or Hydrogen and can be stored in structural tanks as a liquid at ambient pressure and temperature. Though it does require additional systems, safety features and crew training.
Methanol is widely produced and, according to DNV Alternative Fuel Insight, is available in over 100 ports around the World, and easily transported by road. Whilst currently most Methanol is produced from fossil fuels, the molecule is the same whether grey, blue or green. This offers a clear pathway to green Methanol as production and availability are scaled up for shipping and industrial use.
Upgrading an existing yacht to use Methanol will be prohibitive due to cost and the impact on volume and/or range – the "future proof" question – so use will be limited to the next generation of superyachts being designed and built in the coming years.
Building Superyacht Green Corridors
Whilst availability of HVO or equivalent should be given the greatest attention as an immediate solution, we also need to factor in the availability of Methanol for the future – this will give the early adopters greater confidence.
Building and investing in green corridors will require an understanding current and future fuel demands and collaboration from various stakeholders.
Key will be to understand yacht owners' 'sensitivity and appetite' for more expensive low carbon fuels, as well as their commitment to reducing their CO2 emissions. This would require the assistance of captains, brokers, yacht managers and builders.
Once this has been quantified the study could progress to include: –
Identifying the most popular cruising regions and routes
Cross reference against existing production, transport, and bunkering infrastructure
Identify key locations for storage and bunkering
Assess the current and future fuel demands, and fuel types
Define the scope of the plan
Work with stakeholders e.g. concerned owners, fuel producers, suppliers and local government to implement the plan
Ensure transparency on CO2 reductions by collecting data
Promote the use through a public database and 'zero carbon flag'
The Future
It is clear the industry needs to start planning for a future without fossil fuels. And, though there is an absence of factors such as regulations or economic measures that affect us now, it is only a matter of time before they do.
In the meantime, due to World events, we are now a more visible industry. Once shrouded in secrecy, that veil has been pierced. Serious investigative journalists from mainstream media have the industry clearly in their sights. And, although much of this revolves around the Russian war and sanctions, it will likely extend to the wider industry in the coming years.
As a recent example of public sentiment we have seen protests at the IYCA in Antibes; as we see elsewhere this level of activism is only set to increase. If the data was not so expensive, I am sure there would be a yachting equivalent of Jack Sweeney's @celebjets tracking their use and fuel consumption and CO2 emissions – I guess only a matter of time?
Superyacht owners have the opportunity to take the initiative on the growing pushback by taking a more responsible approach to yachting and moving to more efficient yachts, alternative technologies, and low carbon fuels.
Could "superyacht green corridors" help with that?